UVC Disinfection System
In these tougher times, We realize the importance of being safe from anything and everything. Covid19 has shaken up the whole world, more importantly for high-class modern age healthcare systems that have been unable to tackle this pandemic till now. With contributing factors and proven studies one such part is UVC light which has been confirmed to kill 99.9%* germs including corona virus by rupturing their DNA through wavelength of 240-260 nm. UVC Disinfection Can Help Reduce Infections and let you live safe and healthy. So its a vital thing to have this technology by your side which can keep you safe. UVC disinfection system UVC disinfection box can be used in homes, offices, hospitals, factories and pretty much everywhere. UVC light has already been used in medical industry like hospitals where their most sensitive departments like ICU, CCU are sterilized using UVC germicidal lamps or tubes.
---
Challenges:
Keeping track of daily use items to be sterilized like cellphones, food items, eyeglasses, key chains etc
Any item bought/brought from outside to be infection-free
Utmost safe health priority
---
Project:
To develop a complete electronic and electrical system for UVC Disinfection System
---
Solution:
In this application we have developed a complete embedded system setup for the UVC Disinfection box. When the machine is powered 'ON' the system will start in ready stage and provide you the options to run the cycle with pre-set timings like 2 mins, 3 mins and 5 mins, you press the desired button and the system will power on the UVC lights fixed inside the box for the set time period and make sure the items placed inside are sterilized. If the door is opened accidentally, the system will auto cut-off so as to provide safety to the operator as UVC lights are found to be dangerous upon direct exposure to bare skin and eyes.
There is also a custom time increase and decrease option according to your requirements. The system performed as per the client's requirement and is working exceptionally well.
There are two factors that directly influence the effectiveness of UV-C disinfection: time of exposure and UV-C radiance (intensity viz. 254 nm usually) resulted in the elimination of >99.99% of common viruses and bacteria.
---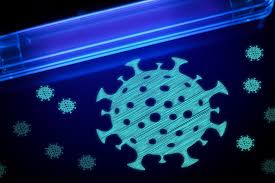 ---
Benefits:
Kills a majority of viruses including corona virus in a recommended disinfection cycle
Protects against accidental exposure
Maximizes Bio-security protocols
Easy to use one-button operation
Chemical free disinfection
---
Applications:
UVC Chamber
UVC Box
UVC Delivery Bags
UVC Foot Mat